Product Description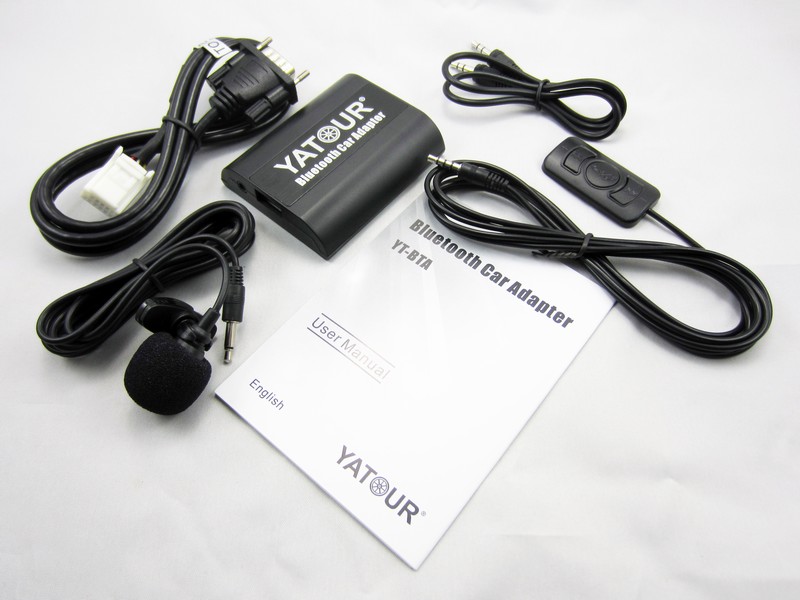 BTA-TOY2

Includes:

l Module unit for Toyota

l Toyota Small(6+6) plug

| Microphone

l AUX cable

Compatible

Models

TOYOTA

4Runner 2003-2011, Avalon 2005-2011, Avensis 2003-2011,Auris (after 2007), Camry 2005-2011, Celica 2003-2005, Corolla 2005-2011, D4D 2009, FJ Cruiser 2007-2010, Highlander 2004-2011, Land cruiser 2003-2011, Matrix 2005-2011 Mark X 2005-2011, MR2 2004-2010, Prius 2004-2011, RAV4 2003-2011, Sequoia 2005-2011, Sienna 2004-2010, Solara 2004-2008, Tacoma 2005-2011, Tundra 2004-2011, Venza 2009-2011, Vitz 2006-2010, Yaris 2006-2011

SCION

xA (2004+), xB (2004-2013), tC (2005-2010)

LEXUS

ES 300/330 2004-2011, IS 220/250/300/350 2006-2011, GS 300/400/430/450H 2006-2011, GX 470 2004-2009,LS 460 2007-2011, LX 570 2008-2011, RX 300 1998-2002(requires YT-SBY cable),RX 300/330/350/400H 2004-2009, SC 430 2005-2010

Compatibility

Notice

1.Toyota Y cable(YT-TYY) is optional when CD changer port is occupied by NAV, AUX,XM

2.Fits Toyota/Lexus OEM radios by Panasonic and Matsushita: 11816,11817,11828,16852 ,12821 ,13803 ,13829,16852,17006 ,17828 ,50323 ,51825,53816 ,53818 ,58814 , 58816 , 58827, P1500, P1733, P1740,P1750(LX470),P1754,P3745 (Land Cruiser),P3803, P3914(Prado) ,P3916, P3918, P3926, P3930, P3946,P6827,P7514,P7809 , P7820, Q58816, A56828 ,A56829,AP6829,AP6860,W13830,W53900,W53901 ,W53903, W53905, W58810, W58814, W58831, B9002 Navigation System, ND3T-W55(36052) Navigation radio (Mark X),etc

3.Compatible with Toyota Navigation System 4. Supports ID3 tag(text display)

Not work with

52867(Vios), Aygo, 58805 (2003 RAV4 ), 56018, 58813,T18303,B9010, B9004 (2007 RAV4),RAV4 with a factory navigation,TNS Travel 700, W58816,T18303, W13807/W13081 / W13086 (Auris),W53904(Panasonic,Avensis 2007), W58824, W58832,36458, AD1812(Delphi on 2010-2011 Tundra/ Sequoia),AD6900(Delphi on 2000-2004 Avalon), other AD-xxx radios
Notice: Some newer Toyota/Lexus models may have older 5+7 pin CD changer port ,which requires BTA-TOY1
For example,some of RAV4 after 2003 with 58812 radio, this requires BTA-TOY1

If the CD changer port of your radio is occupied, you need to buy a Y cable (YT-TYY) to bridge.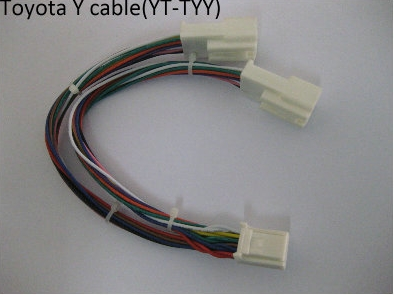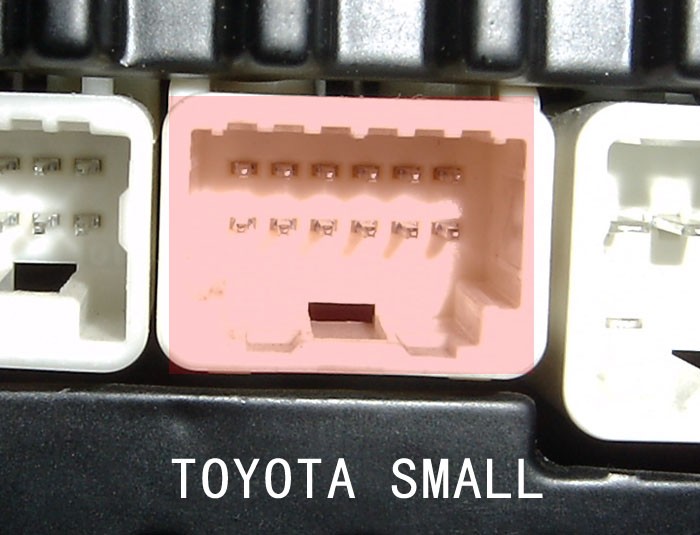 Installation guidance:
1, Plugs in to the back of the Car Stereo. It uses CD changer port of your stereo.
2, Plug-and-play operation.
3, Works as an AUX Input converter for any MP3 player.
To remove your existing car radio, You may be able to find more information via websites or by contacting a dealer/qualified installer.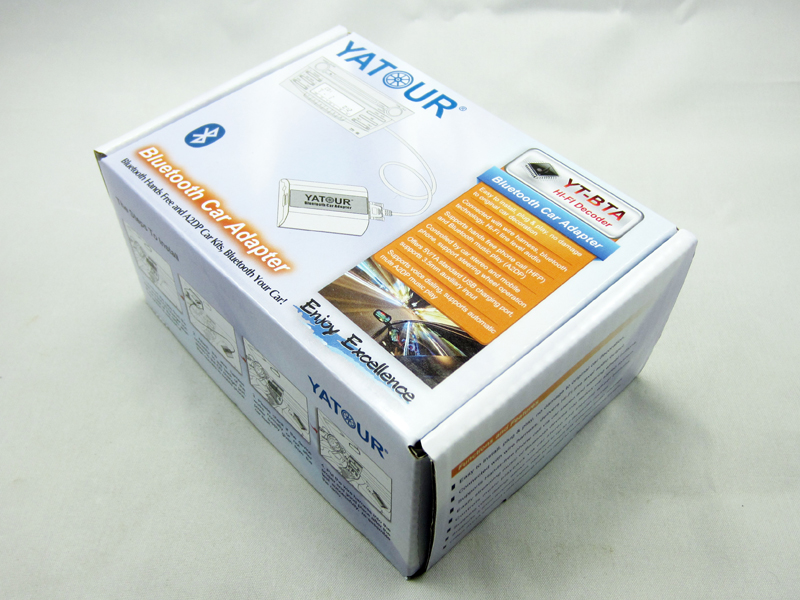 Customs code(HS code):8522909100

Size:
l Module size: 74 x 62 x 20mm
l CDC plug length:95cm; AUXcable length: 50cm
l Standard Packing box: 64x 93 x 144mm
l Big-size packing box: 210 x 150 x 60mm
l Module weight: 50g;
l Gross weight: 230g-410g;
l 80 standard boxes/big carton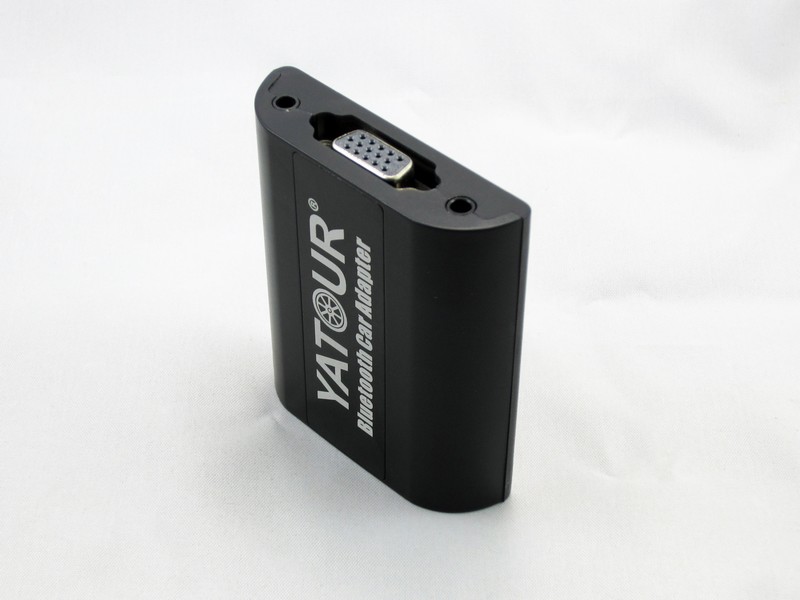 Specification:
l Voltage Input : 11V~14.6V DC
l Operational Current : 600mA
l Standby Current : 20mA
l Operating Temperature: -35℃~+75℃
l DAC Resolution : 20bit
l Total Harmonic Distortion : 0.05%
l SN Ratio : 90dB
l Frequency Response : 20HZ-20KHZ
l Module case is made of plastic and aluminum alloy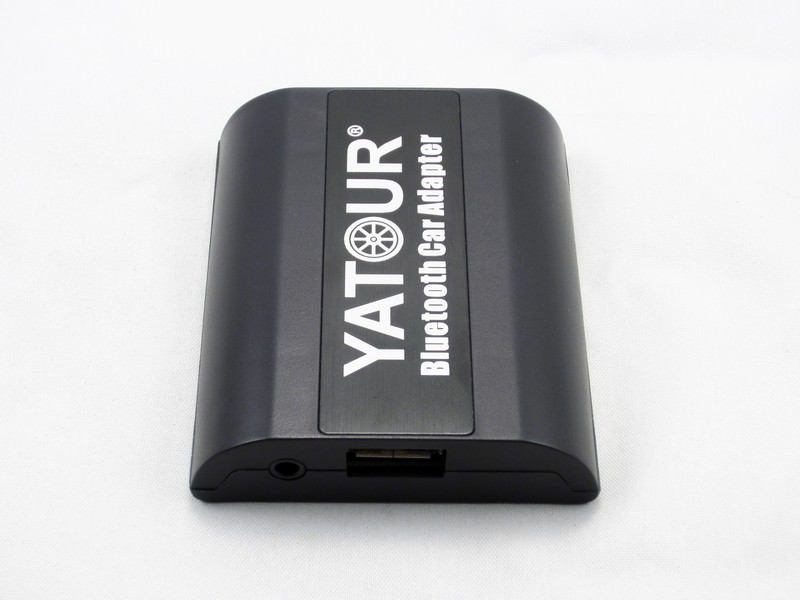 Yatour car BluetoothAdapter (YT-BTA)
AbsolutelyBluetooth integration kit for OEM car stereo
1. Hands free phone call (HFP) in car
2. A2DP music streaming into car stereo
3. Audio Remote Control (AVRCP) via car stereo buttons and steering wheel control.
Track up/down, Play/Pause, Fast Forward/ Fast Reverse
4. Charge smart phone via USB port.
5. 3.5MM jack auxiliary input to play mobile phone etc.
6. Automaticaly play A2DP when switched from FM mode to CD mode
7. Able to adjust HFP volume and A2DP volume separately via remote buttons.
8. Plug and play via original CD changer port,no damage to car interior, no need to cut wire.
9. CD quality sound
10. With Led indicator for different working status