Product Description


YTM07-OPL

Includes:

l Module unit for OPEL

l OPEL plug

| iPod cable

l AUX cable

Compatible Models

Opel
Vauxhall
Holden

Antara 2006+, Astra H 2004-2009, Astra J 2010+, Captiva 2006+, Corsa D 2006+, Combo B 2006+, Insignia 2008+, Signum 2006-2008, Tigra 2004-2009, Vectra C 2005-2008, Zafira B 2005+,

Compatible Head Units

CD 30 MP3 / CD 300 ( with AUX input, OEM by Delphi Grundig/VDO/Blaupunkt)

Notice

1. Car model year range are for reference only; Compatibility depends radio type
2. Requires fully disconnecting Head Unit from car power before installing Yatour
2. Not compatible with CD400 and CD70 Navi
3. Not compatible with Head unit without auxiliary input
4. Pressing "FM" button twice or more times to play Yatour, don't press "CD" button
Supported radio CD30 MP3 picture as below: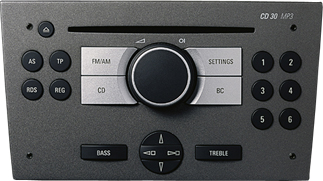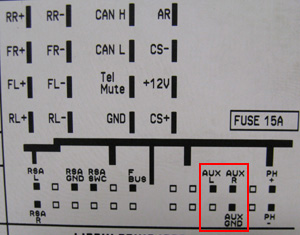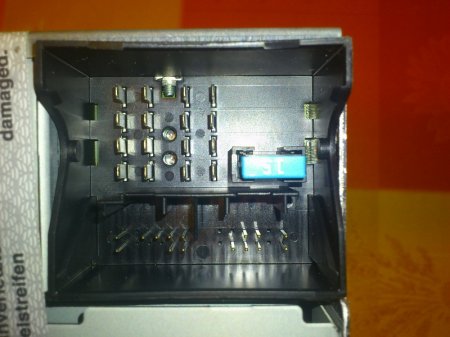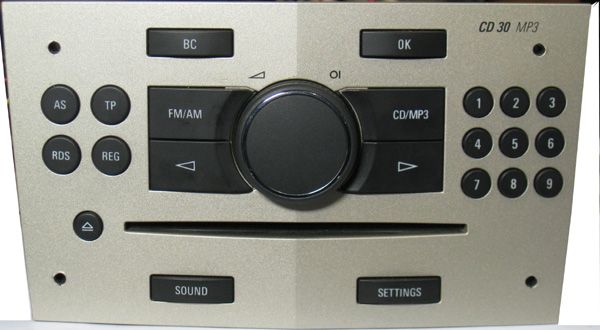 Radios with following pinout are not supported(before 2007):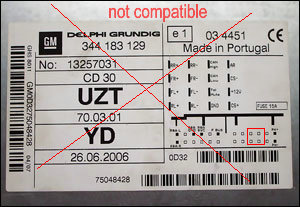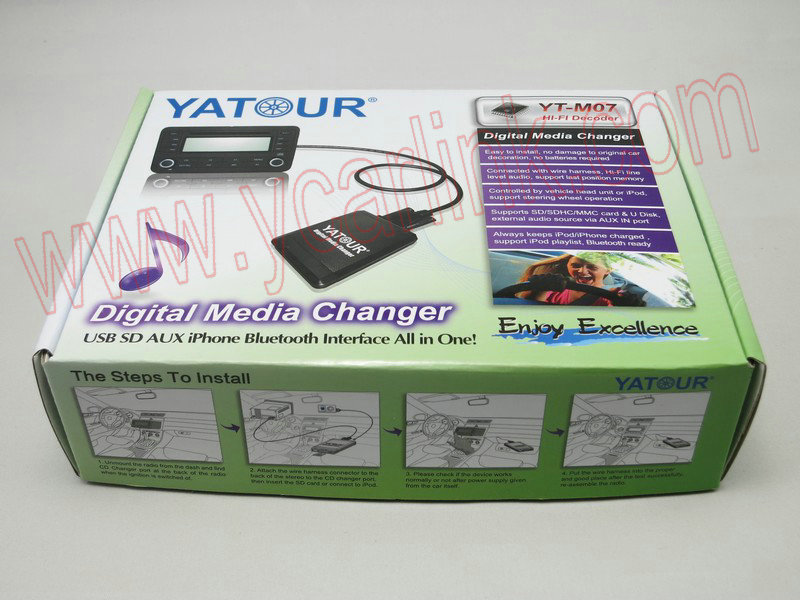 Digital Media Changer (YT-M07)


Customs code (HS code):8522909100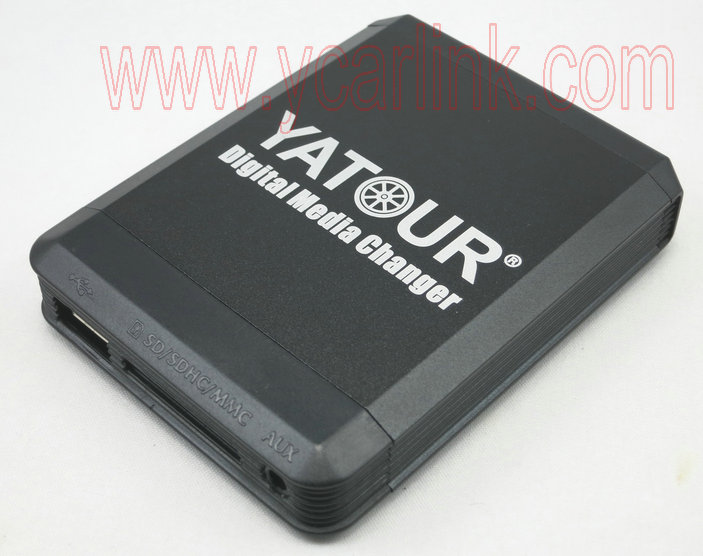 l Module size: 90 x 70 x 20 mm
l CDC plug length :100cm; iPod cable length: 120cm;
l AUX cable length: 50cm
l Standard Packing box: 210 x 150 x 60mm
l Middle-size packing box: 142 x 96 x 64mm
l Module weight: 80 grams;
l Gross weight: 260g-440 grams;
l 80 Middle boxes/big carton

Introduction:
This is an Audio car kit. It is a replacement of CD changer.It can be easily installed and used. The installation and usage are the same as CD changer's installation and usage, simply plug in USB disk/SD card/iPod, you can play audio through car audio system and enjoy music in your car. After connected with optional Bluetooth module kit ,it integrates bluetooth hands freephone call and stream mobile phone's A2DP music playback into car stereo system.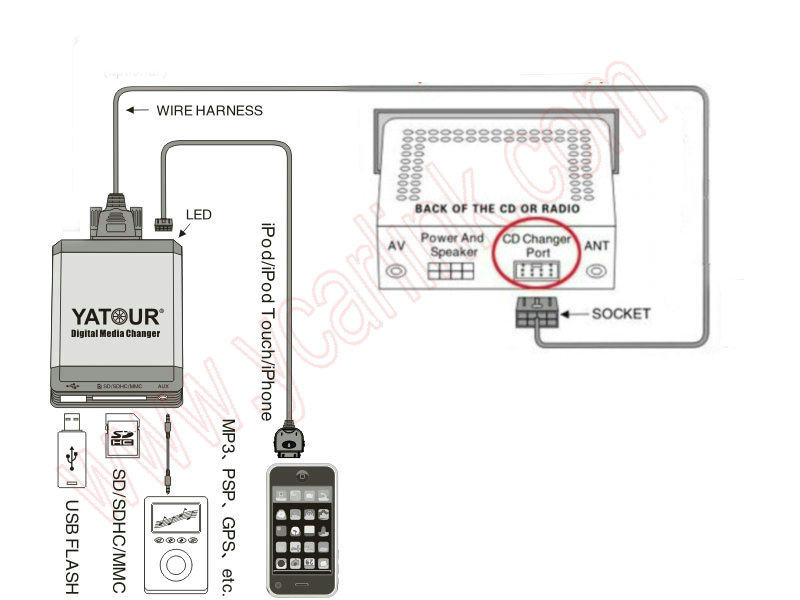 Specification:
l Voltage Input : 11V~14.6V DC
l Operational Current : 200mA
l Stand by Current : 3mA
l Operating Temperature: -35C~+85C
l DAC Resolution : 20bit
l Total Harmonic Distortion : 0.05%
l SN Ratio : 90dB
l Frequency Response : 20HZ-20KHZ
l Module case is made of aluminum alloy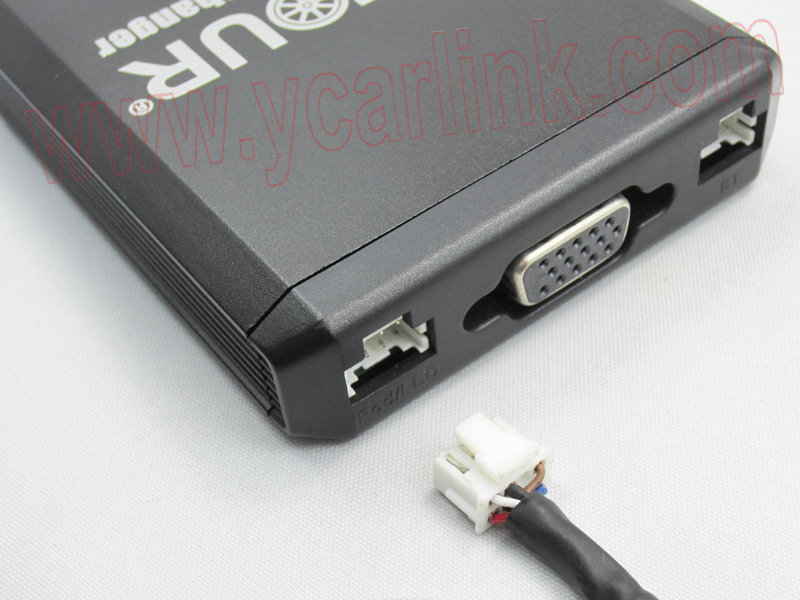 Features:

1. Plug&play, modular design, CDC alternative
2. Connected with wire harness, not FM signal controlled ,Hi-Fi guaranteed
3. Controlled by vehicle Head Unit, support Steering wheel operation
4. With Hi-Fi Decoding Chip, perfectly support MP3/WMA/WAV tracks
5. Supports SD/SDHC/MMC card/U Disk/Card Reader/Hard Disk/iPod/iPhone
6. Keeps iPod/iPhone charged
7. Supports external audio source (PSP,Mobile phone,iPad) via AUX in port
8. Play list function same as multi CDs
9. Supports Last Position Memory (LPM)
10. Vibration and interference proof
11. Easy to install, no damage to original car interior
12. Different module firmware versions for different types of protocol of car stereos
13. With BT slot for additional Bluetooth hands-free kit(YT-BTM)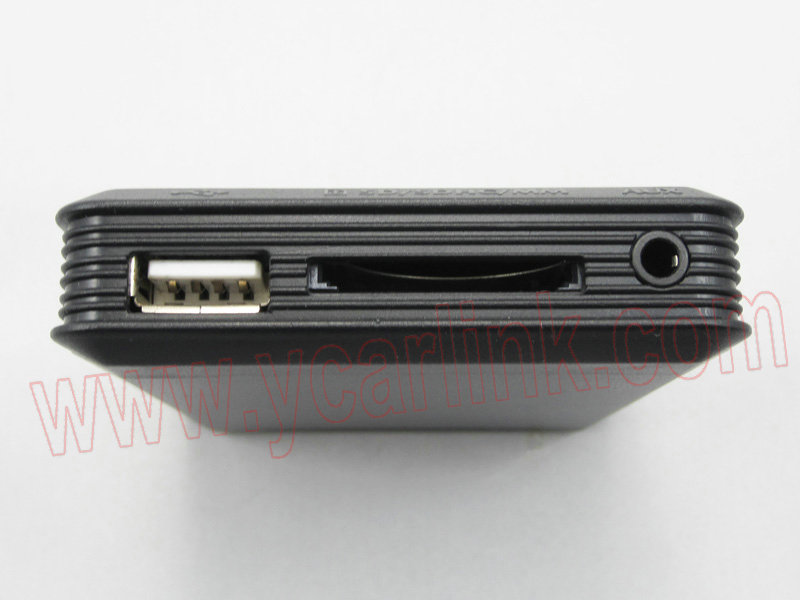 USB SD Usage:
1. Max 16GB (2GB is most recommended); SD card is more recommended than USB stick.
Sometimes, you may have to change for another USB stick or another SD card if music files are not played normally.
2. Please format USB stick or SD card with FAT16 or FAT32 format before you save files and folders in USB/SD.
NTFS format is not supported.
Note: It is better to format your USB/SD on windows PC than on Apple Mac to play USB/SD on our YT-M07
3. Imposed folder naming system: CD01, CD02, CD03 ...CD15. .Supports up to 15 folders (depending on the radio type) on your USB/SD. Doesn't read sub-folder and gets confused with other names in root of the drive.
4. Any number of songs can be stored in each folder, but the display of most radio models can only screen 99 track titles.Saving too big file(over 50MB) in any folder may also cause intermittent performance
5. Using music files formats other than WMA and MP3 may also cause intermittent performance.
6. Supported MP3/WMA/WAV files of 8Kbps-320Kbps only; MP3/WMA files over 320Kbps may not be recognized or played
7. The playback order of songs is in line with their created date.
8. Sometimes,to remove defect on software of car audio system, you may need to disconnect the battery or remove the fuse to reset the car audio system.
9. To use the Aux-In port, it's necessary to remove the USB or SD card.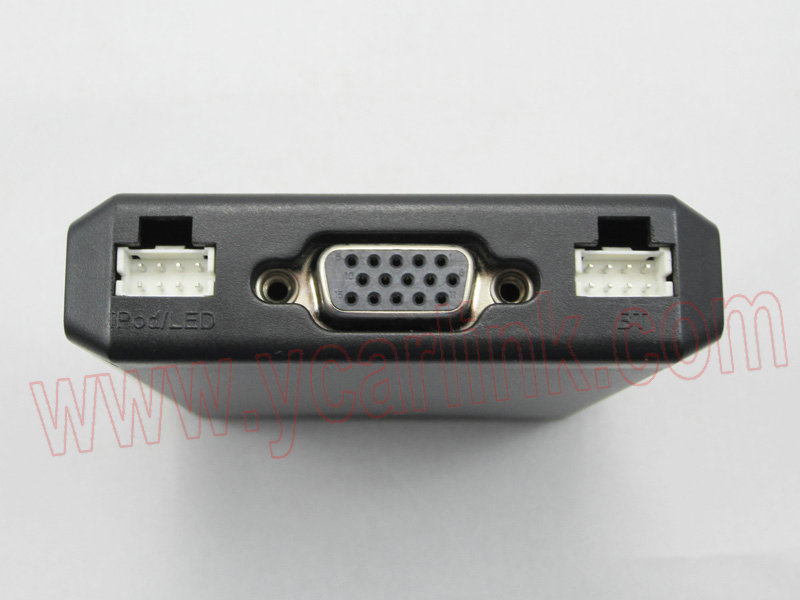 iPod/iPhone Usage:
Compatible with following iPod/iPhone models (Including Charging):
iPhone 5S 5C 5 with lightning adapter
iPhone 2G 3G 3GS 4G4GS
iPod touch 1st, 2nd, 3rd and 4th generations
iPod nano 1st, 2nd, 3rd, 4th, 5th and 6th generations
iPod Mini 1st, 2nd generations
iPod Video, iPod Photo, iPod Classic 4th, 5th and 6th generations
Compatible with iPad iPad2 iPad3 (Does not charge iPad unless iPad's screen is sleeping, charges slowly)
Note: iPhone 5/5S/5C requires a lightning to 30pin adapter so as to be compatible with YT-M07.

Operating instructions:
Connect your i-Pod to the interface via the supplied cable, power on the radio and switch to CD changer as the source, it will then switch to your iPod and is now ready to use.
(1).iPod interface has two operating modes:
1. Hybrid Mode
2. Playlist Mode
The Disk # buttons on your factory radio allow you to switch between the above two modes. Depending on the model of your radio the disk buttons could be represented by numbers 1,2,3,4,5,6 or on some models Disk # are selected via the Disk+ Disk- buttons. Please refer to the user guide provided with your car radio for further information and to familiarize yourself with the functions of your particular radio and the procedure for disk # selection.
(2).For most car radios, the following operations will be supported:
l Disk Change
CD (Disk+ - )Button------ Operation
n Disk #1 ------ Switch to Hybrid Mode, play all music files of iPod as one CD
n Disk#2-> ------ Switch to Playlist Mode, play iTune's playlists as virtual multi CDs
Disk #2 ------ Playlist 1
Disk #3 ------ Playlist 2
Disk #4 ------ Playlist 3
Disk #5 ------ Playlist 4
Disk #6 ------ Playlist 5
And so on
l Next track/Previous track
When "Next track" button is pressed on car stereo, iPod will jump to the next song and car stereo track number will represent song number in a current playlist. And Vice Versa.
l Fast Forward/ Fast Reverse
When "Fast Forward" button is pressed, iPod will start rewinding current track forward.Time on car stereo will represent actual position within the audio track. And Vice Versa.
l Play/Pause
The iPod will automatically start play or pause.
l Disk / Mode / CDC / SOURCE / AUX or FM/AM
It will switch between YATOUR and FM/AM