Product Description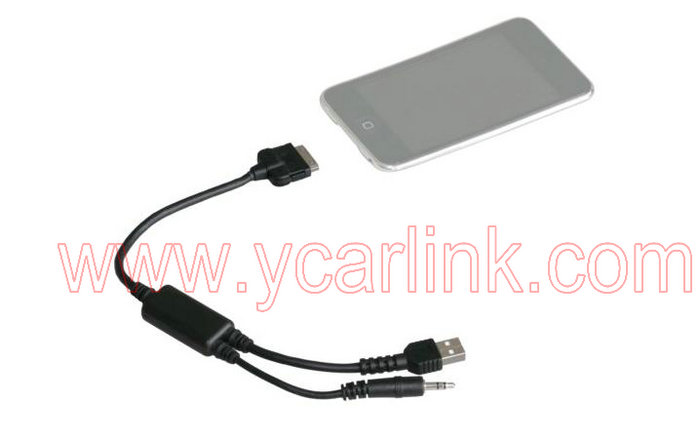 Made for BMW part #: 61 12 2 179 623
Yatour item Number: YT-BIVY
Enables an iPod/iPhone to be connected to the audio system via the USB audio interface for the playback of music through the car's stereo speakers.
Not suitable for iPhone 5 or other devices with Lightning connector.

Only suitable for vehicles with Control for Combox (S6VCA), manufactured from September 2010 on.

Specification and Features:
l Listen to your music through your cars radio
| Watch video of your iPhone/iPod via your car radio video screen
l Track playing is displayed on cars radio / iDrive
l Control volume and select track / playlist etc from iDrive or
multi-function steering wheel (if option is fitted)
l Charges your device via USB port
l Easily interchangeable / removable!
l Compatible with all iPhones and iPods with dock connectors from 2004 on.(Does not work with Shuffles).
Notice: Make sure your BMW/Mini Cooper are with original AUX port and original USB port to support this cable before you purchase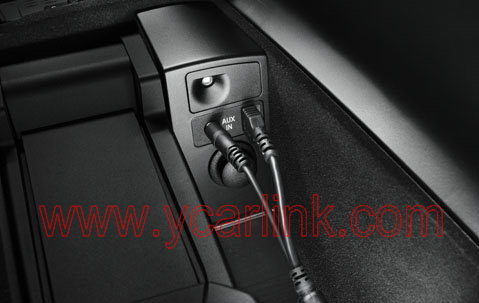 This part is suitable for the following models:
Series

Chassis

Body Type

Model

Production Year From

Production Year To

1 Series

E81

3 doors

116d - 130i

01 March 2007

Present

E82

Coupe

118d - M Coupe

03 September 2007

Present

E87

5 doors

116i - 130i

01 June 2004

28 February 2007

E87N

5 doors

116d - 130i

01 March 2007

Present

E88

Convertible

118d - 135i

03 December 2007

Present

3 Series

E90

Saloon

316i - M3

01 December 2004

31 August 2008

E90N

Saloon

316d - M3

01 September 2008

Present

E91

Touring

318d - 335xi

01 June 2005

31 August 2008

E91N

Touring

316d - 335xi

01 September 2008

Present

E92

Coupe

316i - M3

01 June 2006

28 February 2010

E92N

Coupe

316i - M3

01 March 2010

Present

E93

Convertible

320d - M3

01 December 2006

28 February 2010

E93N

Convertible

318i - M3

01 March 2010

Present

5 Series

E60

Saloon

520d - M5

03 March 2003

31 December 2009

E60N

Saloon

520d - 550i

01 March 2007

31 December 2009

E61

Touring

520d - 550i

01 March 2004

28 February 2007

E61N

Touring

520d - M5

01 March 2007

31 May 2010

F07

GT (Gran Turismo)

530d - 550iX

03 August 2009

Present

F10

Saloon

520d - M5

04 January 2010

Present

F11

Touring

520d - 550i

01 June 2010

Present

6 Series

E63

Coupe

630i - M6

01 September 2003

Present

E63N

Coupe

630i - 650i

03 September 2007

Present

E64

Convertible

630i - M6

01 December 2003

31 August 2010

E64N

Convertible

630i - 650i

03 September 2007

31 August 2010

7 Series

F01

Saloon

730d - 760i

01 September 2008

Present

F02

Saloon

730Ld - 760Li

01 September 2008

Present

F04

Saloon

Hybrid 7, Hybrid 7L

04 January 2010

Present

X1

E84

SAV (Sports Activity Vehicle)

X1 18d - X1 28iX

01 September 2009

Present

X3

E83

SAV (Sports Activity Vehicle)

X3 2.0d - X3 3.0i

01 September 2003

31 July 2006

E83N

SAV (Sports Activity Vehicle)

X3 2.0d - X3 3.0si

01 August 2006

31 August 2010

F25

SAV (Sports Activity Vehicle)

X3 20dX - X3 35iX

01 September 2010

Present

X5

E70

SAV (Sports Activity Vehicle)

X5 3.0d - X5 M

02 October 2006

Present

X6

E71

SAC (Sports Activity Coupe)

X6 30dX - X6 M

02 January 2008

Present

E72

SAC (Sports Activity Coupe)

Hybrid X6

01 October 2009

Present

Z4

E89

Roadster

Z4 20i - Z4 35is

02 February 2009

Present