Product Description
YTM05-VOLSC

Includes:

l Module unit for Alpine M-bus

l Volvo SC 8pin Mini-Din plug

l iPod cable

l AUX cable

Compatible Models

Volvo (SC-xxx )

1994-2000 Volvo models with SC-xxx head unit(excluding S80)

2001-2006 Volvo C70 with SC-xxx head unit

Compatible Head Units

SC700,SC800, SC801,SC802, SC805, SC810R,SC811,SC814, SC815, SC816, SC836, SC900, SC901, CR905 etc

Notice

Not work with Volvo SC-710 head unit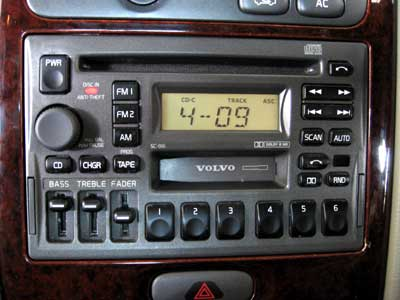 iPod Car Adapter(YT-M05)
Customs code(HS code):8522909100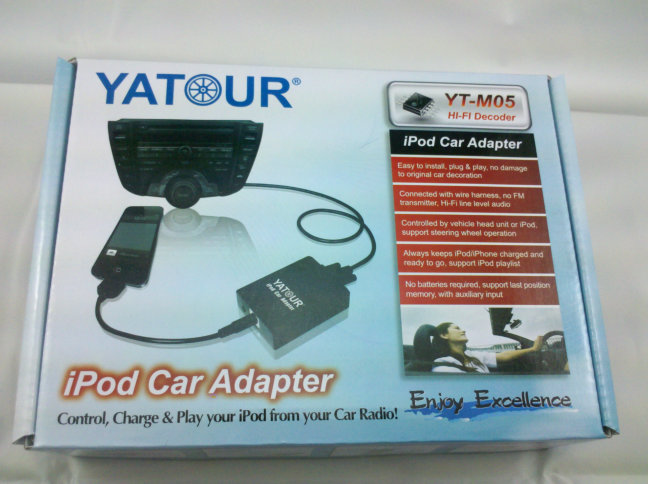 Size:
Module unit: 75.5 x 58 x 20.5mm
iPod cable: 120cm; AUX cable:50cm;
CDC plug:95cm
Packing box: 210 x 150 x 60mm
Net weight: 90g;
Gross weight:300g;
50units/big carton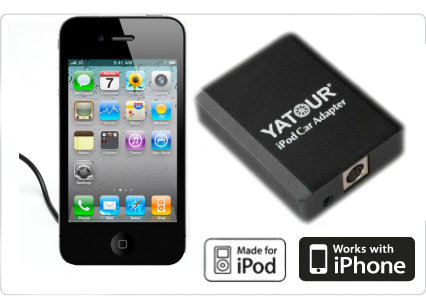 Introduction:
This is a digital integration kit between your iPod (iPhone) and OEM car stereo system for many vehicles. It is a replacement of CD changer. It can be easily installed and used. The installation and usage are the same as CD changer's installation and usage. Simply plug iPod to our car adapter , you can play audio through car audio system and enjoy music in your car.iPod car adapter insures CD quality sound from iPod/iPhone to the car stereo speakers.After conneted with optional Bluetooth module kit ,it integratesbluetooth hands free phone call and stream mobile phone's A2DP music playback into car stereo system.

Features:
l Plug&Play
Direct connection via CD changer port, Keep the original look of your car interior
l Line Level Audio

Deliver high-fidelity line level audio output from your iPod to your factory
car stereo.
l Integrated Controls

Allows you to control music,browse playlists and change tracks from your
iPod/iPhone/iPad,radio buttons and
steering wheel controls.
l Charges iPod/iPhone

Always keeps your iPod/iPhone charged and ready to go. Charges 5V/12V models.
l AUX Input

Connects any external audio device
l Works with iPhone/iPad.Call in reminding via radio speaker
l Last Position Memory. Automatically resumes CD play from the last point if there is interruption to CD play
l Supports Apple iTune's playlists as Virtual CDs.
l Specific,not universal.
Different module firmware versions for different types of OEM head units' protocol
l With Bluetooth slot for additional Bluetooth hands-free kit(YT-BTM).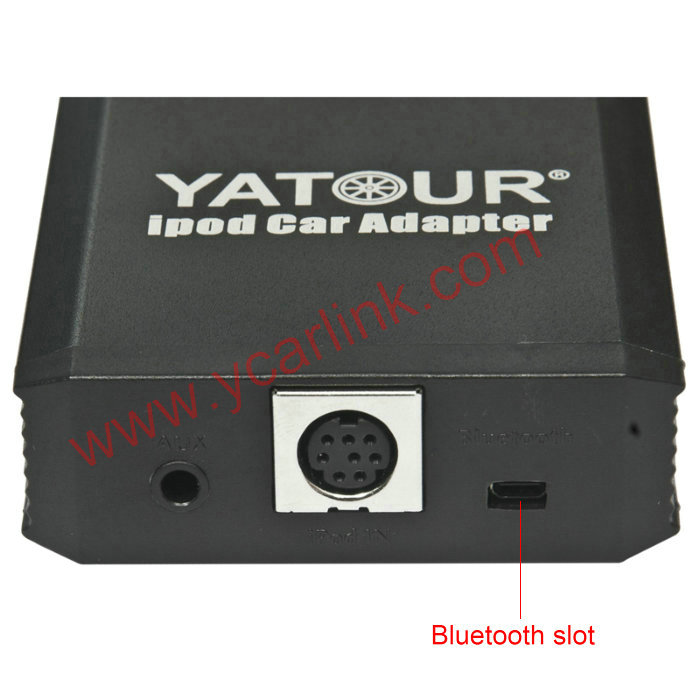 Specification:
l Voltage Input : 12V DC
l Signal-to-Noise : 95DB
l Max. Current : 600MA
l Max. Voltage output : 12V
l D/A Device : 24BIT 192KHZ
l Total Harmonic Distortion : 0.01%
l Frequency Response : 20HZ-20KHZ
l Working Temperature : -10C- 80C
compatible with following iPod/iPhone models (Including Charging):
iPhone 2G 3G 3GS 4G 4GS
iPod touch 1st, 2nd, 3rd and 4th generations
iPod nano 1st, 2nd, 3rd, 4th, 5th and 6th generations
iPod Mini 1st, 2nd generations
iPod Video, iPod Photo, iPod Classic 4th, 5th and 6th generations
Compatible with iPad iPad2 (Does not charge iPad/iPad2 unless iPad's screen is sleeping, charges slowly)
Note: The interface can only connect to the iPod shuffle via the 3.5mm Aux input
YT-M05 can not work with iPhone5/iPod Nano 7th/iPod Touch 5th unless connected with Apple's lightning to 30pin adapter
Operating instructions:
Connect your i-Pod to the interface via the supplied cable, power on the radio and switch to CD changer as the source, it will then switch to your iPod and is now ready to use.
(1).iPod interface has two operating modes:
1. Hybrid Mode
2. Playlist Mode
The Disk # buttons on your factory radio allow you to switch between the above two modes. Depending on the model of your radio the disk buttons could be represented by numbers 1,2,3,4,5,6 or on some models Disk # are selected via the Disk+ Disk- buttons. Please refer to the user guide provided with your car radio for further information and to familiarise yourself with the functions of your particular radio and the procedure for disk # selection.
(2).For most car radios, the following operations will be supported:
l Disk Change
CD(Disk+ - ) Button------ Operation
1. Disk #1 ------ Switch to Hybrid Mode,play all music files of iPod as one CD
2. Disk#2-> ------ Switch to Playlist Mode,play iTune's playlists as virtual multi CDs
Disk #2 ------ Playlist 1
Disk #3 ------ Playlist 2
Disk #4 ------ Playlist 3
Disk #5 ------ Playlist 4
Disk #6 ------ Playlist 5
And so on
l Next track/Previous track
When "Next track" button is pressed on car stereo, iPod will jump to the next song and car stereo track number will represent song number in a current playlist. And Vice Versa.
l Fast Forward/ Fast Reverse
When "Fast Forward" button is pressed, iPod will start rewinding current track forward. Time on car stereo will represent actual position within the audio track. And Vice Versa.
l Play/Pause
The iPod will automatically start play or pause.
l Disk / Mode / CDC / SOURCE / AUX or FM/AM
It will switch between YATOUR and FM/AM
FAQ for iPhone/iPod Usage: How-to-create-playlists-in-itunes?