Product Description
iPod Cable for AMI 2008 and older
Item Number: YT-AMIL
Made for Audi Part #:4F0 051 510 E or 4F0 051 510 L

Work in models below with Ami systems. May also work in some newer VW models. :
A4 with Navi 2008
A5 with Navi 2007, 2008
2005-2008 A6/S6
2005-2008 A8/S8
2006-2008 AllRoad
2006-2008 Q7
2007-2008 R8


Note:Not suitable for MMI 3G

Any iPod Generation 4 and higher (iPod, iPod Nano, iPod Photo) equipped with the dock connector may be connnected to the adapter cable.

Features:
1.Line Level Audio
Deliver high-fidelity line level audio output from your iPod to your factory car stereo.
2.Integrated Controls
Allows you to control music from your iPod, or radio and steering wheel controls.
3.iPod-like Browsing
The main iPod menu will be displayed in the Multi-Media Interface (MMI) screen
4.Text Display
The central control knob on the MMI panel, or the multi-function steering wheel controls, may be used to easily navigate through playlists, albums and artists.
5.Charges iPod
Always keeps your iPod charged and ready to go. Charges 5V/12V models.
6.Plug&Play
Supports hot-plugging, also charges the iPod battery while it is connected.

Installation:
The AMI port is usually installed in the copilot's glove box or center armrest box
Please check if your car has AMI port and MMI system before purchase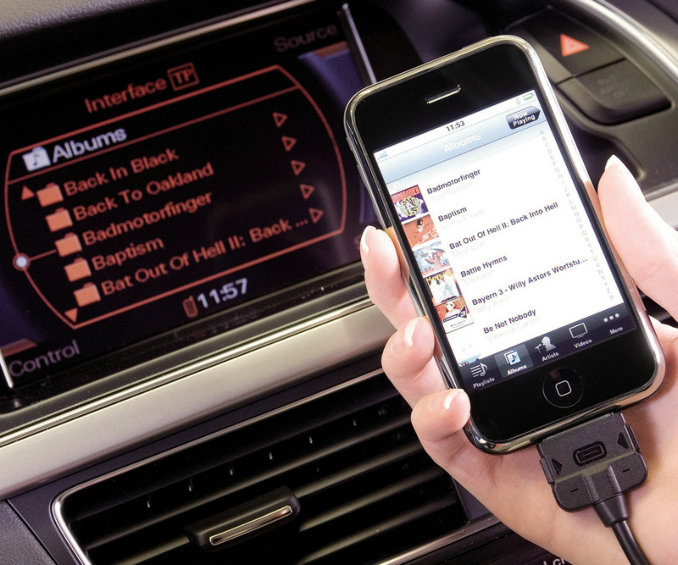 The AMI port is usually installed in the copilot's glove box or center armrest box
Please check if your car has AMI port and MMI system before purchase
Features(YT-AMIL&YT-AMIK):
 Line Level Audio
Deliver high-fidelity line level audio output from your iPod to your factory car stereo.
 Integrated Controls
Allows you to control music from your iPod, or radio and steering wheel controls.
 iPod-like Browsing
The main iPod menu will be displayed in the Multi-Media Interface (MMI) screen
 Text Display (require your stereo supports text)
The central control knob on the MMI panel, or the multi-function steering wheel controls, may be used to easily navigate through playlists, albums and artists.
 Charges iPod
Always keeps your iPod charged and ready to go. Charges 5V/12V models.
 Plug&Play
Supports hot-plugging, also charges the iPod battery while it is connected.
Any iPod Generation 4 and higher (iPod, iPod Nano, iPod Photo) equipped with the dock connector may be connnected to the adapter cable.