Product Description
YT-M04-Hyundai 13pin

Includes:

l Module unit for Hyundai 13pin

l Hyundai 13pin plug

l AUX cable

Hyundai/Kia

2005-2009 Optima(6 discs changer)

2003-2007 ELANTRA

Note

(1)Special for standard radio systems with a 13-pin connectors at the radio connection.
(2) Compatible with car radios with "XM" button;
(3) Not compatible with Sat Nav radios;
(4) Not compatible with radios with internal SAT Tuner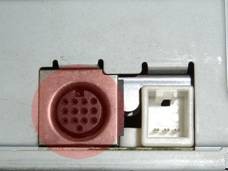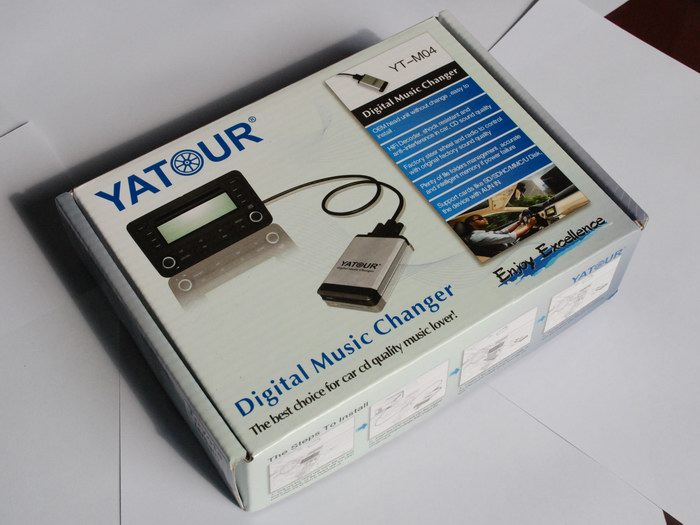 DIGITAL MUSIC CHANGER
Item No.: YT-M04
Brand: YATOUR
Origin: Guangzhou ,China
The Package Consist of:


Control Unit Specific CDC Plug 3.5MM AUX cable User Manual
• Control Unit (Specail changer unit for special car brand)
• Specific CDC Plug(Special CDC plug for special car headunit)
• 3.5 mm AUX cable
• User manual

Size:
l Control unit: 94 x 66 x 16mm
l Packing box: 132 x 50 x 215mm
l Net weight: 80g;
l Gross weight:300g;
l 50units/big carton
Introduction:
This is a Audio car kit. It is a replacement of CD changer. It can be easily installed and used. The installation and usage are the same as CD changer's installation and usage, Simply plug in USB disk/SD card, you can play audio through car audio system and enjoy music in your car.
Features:
1. Plug&play,CDC alternative
2. Connected with wire harness, not FM signal controlled ,Hi-Fi guanranteed
3. Controlled by vehicle Head Unit,support Steering wheel operation
4. With imported Hi-Fi Decoding Chip,perfectly support MP3 and WMA tracks
5. Supports SD/SDHC/MMC card/U Disk/Card Reader/Hard Disk
6. Supports external audio source(MP3 MP4 PSP Mobile Phone) via AUX in port
7. Playlist function same as multi CDs
8. Supports Last Position Memory(LPM)
9. Vibration and interference proof
10. Easy to install,no damage to original car decoration
11. Specific,not universal.Different solutions for different car models or car radios
File Setup and Edit

1. YATOUR support multi folder playback, one directory is mapped to one disk and one file is mapped to one track. The music file on root directory will display CD01 on car radio screen, The music file on sub-directory will display CD02, CD03…CD98, the order is according to the time that you save on SD card or USB Disk. The folder name can be English letter or Arabic numerals or the others. We suggest saving some music files on both root and sub-directory, it will increase the searching speed of YATOUR, if root directory is empty, it will start from first sub-directory (Radio screen display CD02)
2. YATOUR can support up to 99 folder (including root directory), every folder can save up to 99 files (You can save up to 1000 music files, but most of OEM radio only can display double-digit track number, like number 188 music file will display 88 on radio screen).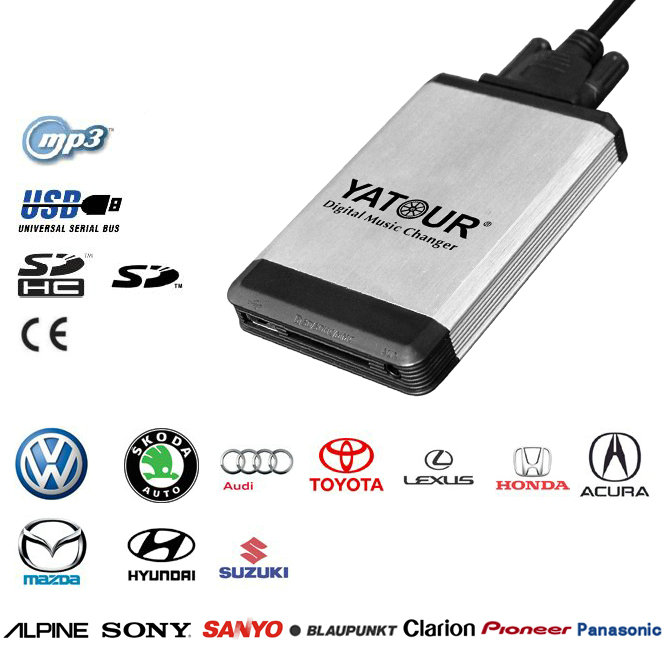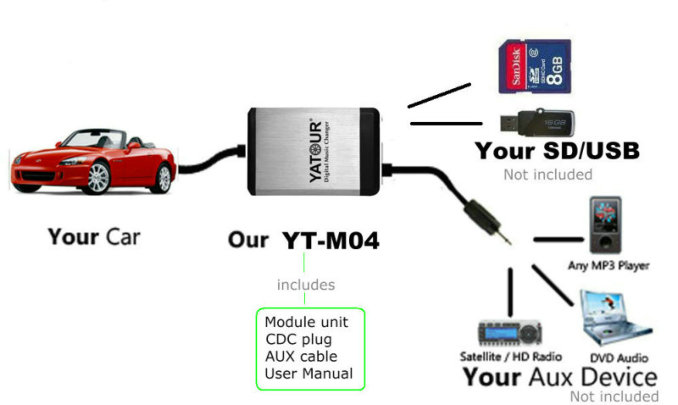 Specification:
l Voltage Input : 12V DC
l Signal-to-Noise : 95DB
l Max. Current : 600MA
l Max. Voltage output : 12V
l D/A Device : 24BIT 192KHZ
l Total Harmonic Distortion : 0.01%
l Frequency Response : 20HZ-20KHZ
l Working Temperature : -10C- 80C