Product Description
Tested YTM06-BEK on 1999 Alfa Romeo 166 OEM becker radio with navigation:
http://www.youtube.com/watch?v=58JfuRf5HIU&feature=youtu.be
YTM06-BEK

Includes:

l Module unit for Becker

l Becker plug

l AUX cable

Compatible Head Units

Becker

(1994->2002)

Becker 2234, Becker 2235, Becker 2237, Becker CDR 22, Becker CR 22,Cascade Pro 7941 ,Cascade 7944 ,DTM ,DTM High Speed ,Grand Prix ,Indianapolis Pro , Indianapolis 7920, Mexico Pro MP3 ,Monza,Online Pro 7800 (from Software Version 1.5) , Traffic Pro 7945 with Bluetooth® ,Traffic Pro 7949 with talk-dialog-system , Traffic Pro High Speed , Traffic Pro (from Software Version 6.0),

Porsche (1980-2002)

OEM Becker radios: CDR21,CDR-22 , CDR210,CDR-220, CR11,CR21,Traffic Pro 4760, Traffic Pro BE4720

Mercedes Benz

BE2340(Becker Mexico)

Ford

Traffic Pro (from Software Version 6.0)(Becker)

Not work with

1.Indianapolis, Monza 2130,Cascade 7907,Posche CDR23(fiber optic)

2.Becker radios on Alfa Romeo 166/Lancia Lybra with navigation(not able to control folders or tracks).

Notice

1. Replace the Becker CD Changer Silverstone 7860/2660

2. May work with other Becker Indianapolis series radios


Mercedes Benz Becker Mexico BE2340:

Ford OEM Becker Traffic Pro radio(from Software Version 6.0):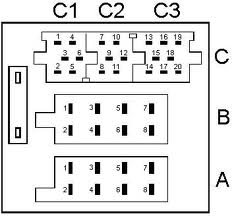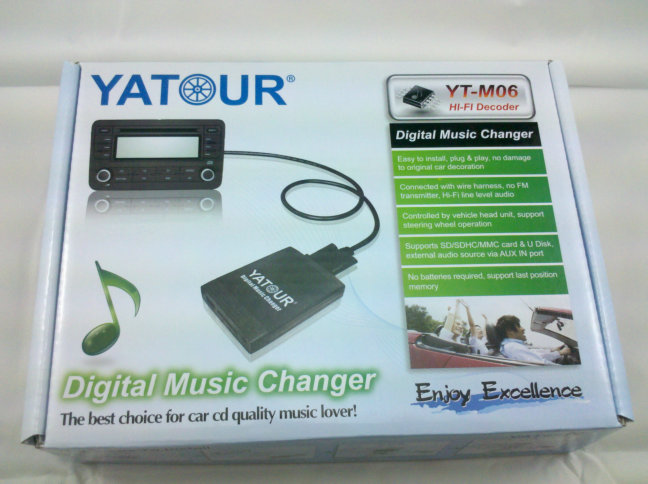 Digital Music Changer(YT-M06)
Customs code(HS code):8522909100

Size:
l Module size: 92 x 65 x 16.5mm
l CDC plug length:95cm; AUXcable length: 50cm
l Standard Packing box: 210 x 150 x 60mm
l Half-size packing box: 150 x 105 x 60mm
l Module weight: 90g;
l Gross weight: 220g-400g;
l 50 standard boxes/big carton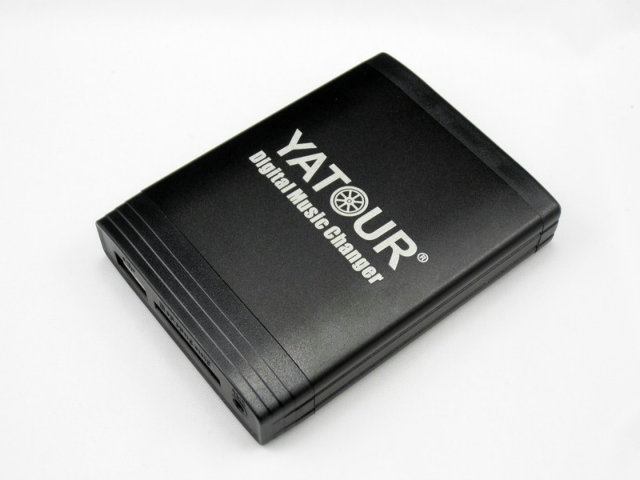 Introduction:
This is an Audio car kit. It is a replacement of CD changer. It can be easily installed and used. The installation and usage are the same as CD changer's installation and usage, Simply plug in USB disk/SD card, you can play audio through car audio system and enjoy music in your car.After conneted with optional Bluetooth module kit ,it integratesbluetooth hands free phone call and stream mobile phone's A2DP music playback into car stereo system.
Specification:
l Voltage Input : 11V~14.6V DC
l Operational Current : 200mA
l Standby Current : 3mA
l Operating Temperature: -35℃~+85℃
l DAC Resolution : 20bit
l Total Harmonic Distortion : 0.05%
l SN Ratio : 90dB
l Frequency Response : 20HZ-20KHZ
l Module case is made of aluminum alloy

Features:

1. Plug&play, modular design,CDC alternative
2. Connected with wire harness, not FM signal controlled ,Hi-Fi guanranteed
3. Controlled by vehicle Head Unit,support Steering wheel operation
4. With Hi-Fi Decoding Chip,perfectly support MP3 and WMA tracks
5. Supports SD/SDHC/MMC card/U Disk/Card Reader/Hard Disk
6. Supports external audio source(MP4 PSP Mobile Phone) via AUX in port
7. Playlist function same as multi CDs
8. Supports Last Position Memory(LPM)
9. Vibration and interference proof
10. Easy to install,no damage to original car decoration
11. Different module firmware versions for different types of protocol of car stereos
12. With BT slot for additional Bluetooth hands-free kit(YT-BTM).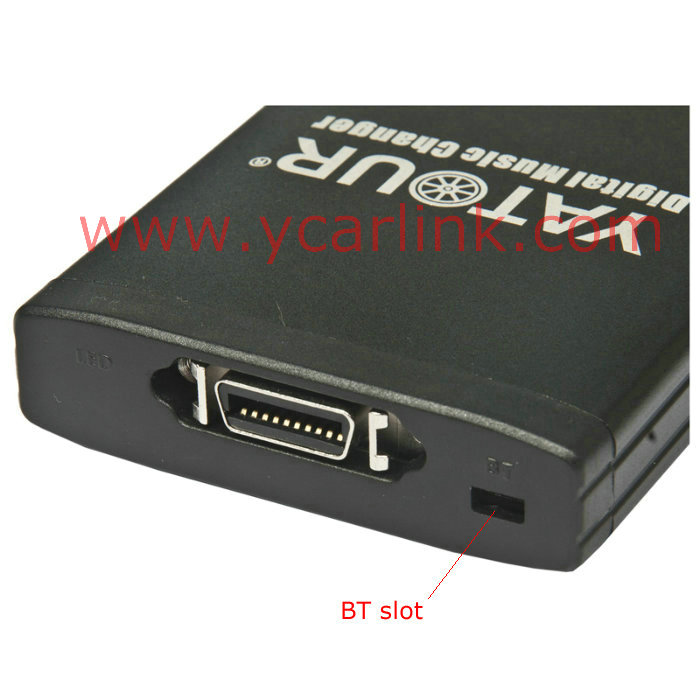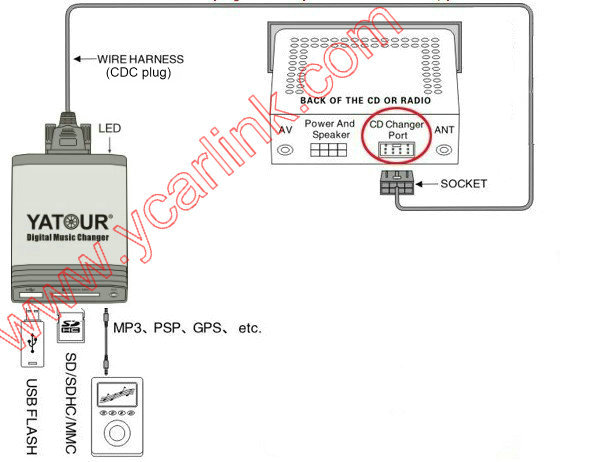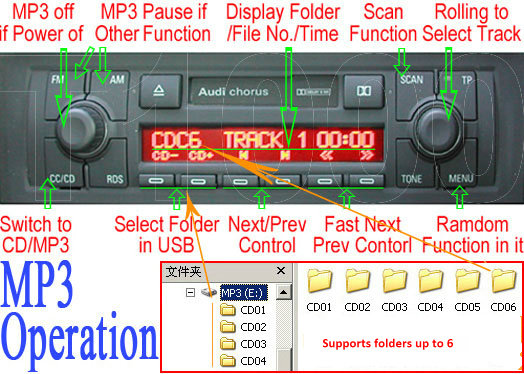 Supported memory cards and USB sticks:
1.Max 8GB (2GB is most recommended);SD card is more recommended than USB stick.
2.Please format USB stick or SD card with FAT16 or FAT32 format before you save files and folders in USB/SD.
3. Imposed folder naming system: CD01, CD02, CD03 ....
Doesn't read sub-folder and gets confused with other names in root of the drive.
4.Supports up to 15 folders (depending on the radio type) on your USB/SD.
5.Any number of songs can be stored in each folder, but the display of most radio models can only screen 99 track titles; Saving too big file(over 50MB) in any folder may also cause intermittent performance
6.Using music files formats other than WMA and MP3 may also cause intermittent performance.
7. The playback order of songs is in line with their created date.
8.Sometimes,to remove defect on software of car audio system, you may need to disconnect the battery or remove the fuse to reset the car audio system.
9.To use the Aux-In port, it's necessary to remove the USB or SD card.
10.YT-M06 may does not work with some of new Kingston brand USB stick.