Contact Us
Room 813, Yongyi Xindu , No.8 Yongfu Road, Yuexiu District, Guangzhou 510500 CHINA
Mr.Vincent Xie WeChat: vincentxie1985
86-20-83581190
86-20-83581216
8613450236562

YT-M06-VW 12pin works perfectly on RCD310
YT-M06-VW 12pin works perfectly on RCD310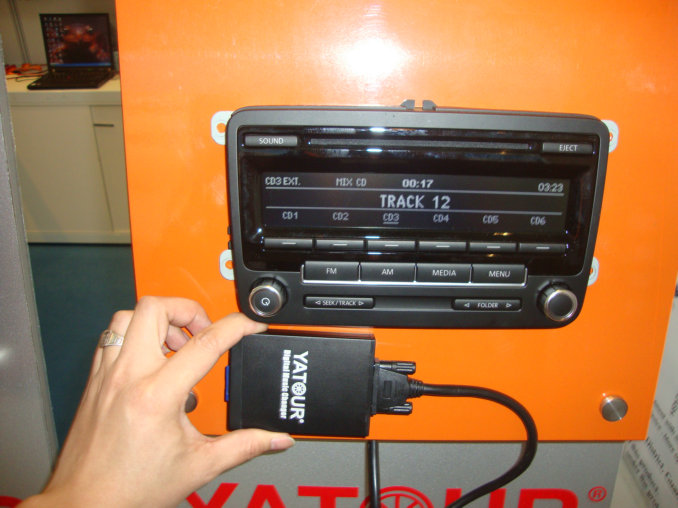 Item No.

YTM06-VW12


Includes:

l Module unit for VW

l VW 12pin quadlock plug

l AUX cable

Compatible With

VW

2009-2010 Beetle,2007-2010 EOS ,2004-2010 Fox ,2004-2010 Golf/GTI/R32 , 2004-2010 Jetta,

2004-2010 Passat ,2005-2010 Polo ,2007-2010 Rabbit ,2003-2010 T5 ,

2007-2010 Tiguan ,2002-2010 Touareg ,2003-2010 Touran,

Skoda

2008-2010 Spuerb, 2007-2010 Octavia

Audi

2008-2010 A3,2007-2010 A4/S4, 2007-2010 TT

Note

(1) Generally fit for new 2-DIN head unit;

(2) Compatible with the following car radios: VW: Delta 6, Delta 7, Premium 6, Premium 7, R100,RCD100,RCD200,RCD210, RCD300, RCD 300 Touran, RCD300 MP3*,RCD310,RCD500,RCD510, Navigation 7L6,Z6Z7, RNS2-MFD2,RNS300/310/510; SKODA: Rhapsody, Beat, Cruise, Dance, Navi Nexus DVD, Stream, RCD-300,; SEAT: Audiosystem CD1/CD2/CD3, RNS2-MFD2, PN1(Monochrome), PN3(Multicolor); Audi: Chorus 3, Concert 3, Symphony 3, 16:9 Navi Plus 3 (RNS-E),Navi RNS E*,Navi BNS 5.0*(without MMI);

(3) 2011 and 2012+ new RCD310/RCD510/RNS310/RNS510 are not compatible

(4) Optional YT-MPC to hook up with existing CD Changer or XM
Introduction:
This is a Audio car kit. It is a replacement of CD changer. It can be easily installed and used. The installation and usage are the same as CD changer's installation and usage, Simply plug in USB disk/SD card, you can play audio through car audio system and enjoy music in your car.
Features:
1. Plug&play,CDC alternative
2. Connected with wire harness, not FM signal controlled ,Hi-Fi guanranteed
3. Controlled by vehicle Head Unit,support Steering wheel operation
4. With imported Hi-Fi Decoding Chip,perfectly support MP3 and WMA tracks
5. Supports SD/SDHC/MMC card/U Disk/Card Reader/Hard Disk
6. Supports external audio source(MP4 PSP Mobile Phone) via AUX in port
7. Playlist function same as multi CDs
8. Supports Last Position Memory(LPM)
9. Vibration and interference proof
10. Easy to install,no damage to original car decoration
11. Different module firmware versions for different types of protocol of car stereos
Supported memory cards and USB sticks:
1.Max 8GB (2GB is most recommended);
SD card is more recommended than USB stick.
Sometimes,the car head unit recognizes YT-M06 but it just does not play normally, then you may have to change for another USB stick or another SD card
2.Please format USB stick or SD card with FAT16 or FAT32 format before you save files and folders in USB/SD.
Note: It is better to format your USB/SD on windows PC than on Apple Mac to play USB/SD on our YT-M06
3. Imposed folder naming system: CD01, CD02, CD03 ....
Doesn't read sub-folder and gets confused with other names in root of the drive.
4.Supports up to 15 folders (depending on the radio type) on your USB/SD.
5.Any number of songs can be stored in each folder, but the display of most radio models can only screen 99 track titles.Saving too big file(over 50MB) in any folder may also cause intermittent performance
6.Using music files formats other than WMA and MP3 may also cause intermittent performance.
7. The playback order of songs is in line with their created date.
8.Sometimes,to remove defect on software of car audio system, you may need to disconnect the battery or remove the fuse to reset the car audio system.
9.To use the Aux-In port, it's necessary to remove the USB or SD card.
10.YT-M06 may does not work with some of new Kingston brand USB stick. For example, not work on following Kingston USB: